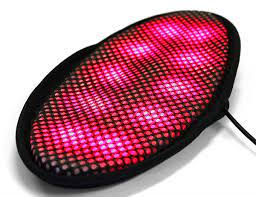 Put it on,
Turn it on,
Feel better.
There's simply nothing else like DNA Vibe.
The science-based patent-pending technology is light-years ahead of conventional light therapy. Here are just some of the unique features: multiple-modes (red, infrared, magnetic and micro-vibration) working in harmony for maximum relief and recovery; precision-tuned wavelength stabilization for greatest effect; proportionate diffusion for safer and more even distribution of light; silicone construction for ideal propagation of micro-vibrations; flexible flush-fitting silicone form optimized for every part of your body and for enhanced results at lowest and safest possible output intensity. Other conventional light products simply don' t compare. Don't settle for anything less.
For a simple explanation, watch this YouTube video:
https://www.youtube.com/watch?v=jUdMj8YOmQE&t=17s
So conventional light therapies have been around for over 50 years (since 1967). They've been shown to be effective and safe through numerous double-blind clinical studies and have been FDA approved for decades. While they are known to work, few (if any) providers understand how or why they work. So why DNA Vibe?
The Intelligent Light Therapy technology is based on the underlying sciences and DNA Vibe's proprietary research into the relationship between genomics and wave-particle physics. From this point of view, conventional light therapies come up short and tend to be relatively expensive, complicated, and clumsy. A plus is that DNA Vibe's technology is surprisingly affordable, easy to use, wearable, and above all, intelligent.
Hundreds of professional and Olympic athletes trust DNA Vibe as essential gear for performance and recovery. Their livelihoods depend on staying fit and recovering fast, and they can choose anything they want to get an edge. Now you can experience why they choose DNA Vibe.
For a testimonial watch this:
https://www.youtube.com/watch?v=J6EtQqJtskQ
So what can it do for you?
Stop inflammation in its tracks to curb acute and chronic pain
Increase circulation to accelerate recovery from injury and workouts
Boost cellular oxygenation to perform at your best
97% of our customers report positive results
Now it is time for you to get to the next level of life with the DNA Vibe. Order yours now by just scanning the QR code.